About Me
Welcome to the WORST page on this site.

Just kidding…

Well, I am a part time college student who works a part time job & runs a couple of guns sites part time. I am studying computer science and mathematics and hope to one day incorporate this knowledge into something gun related.
One of my other hobbies is constructing contraptions out of every day junk & fixing old pieces of machinery that don't run.
I created this website because when I was looking to purchase a M-11 it seemed every website was full of misinformation. I then realized I have an opportunity to fill a niche market with my own website.
I have attempted to make the site as accurate as possible, so if you see any thing wrong email me and if you are in fact correct over some of my sources (and they are VERY good sources) then I will change it.

Oh No!
Oh no! It's a gun owner thats NOT a middle age overweight redneck with a mullet. How can that be!

THE ABOVE NOTES WERE FROM THE ORIGINATOR OF THE MAC-11.NET SITE, known by the screen name Linx310.

Your current 'host' is someone else entirely, known as "Concorde" on the MAC TALK forum.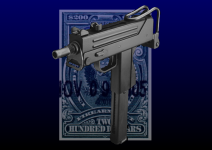 Back to top...